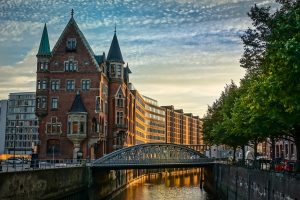 A minor in German can be a great complement to your major. To minor in German, you will need a minimum of 15 credits (5 3-credit courses) at the 3200 level distributed across the following categories:
Language skill courses: choose 2 from the following: German 3231, 3232, 3233, 3234, 3245, 3246.
Content courses (literature, film, culture, etc.): choose 2 from the following: German 3252W, 3253W, 3254W, 3255W, 3261W, 3285, 3293, 3294, 3295 (if taught in German).
Course in English: choose 1 from the following: German 3251, 3258, 3264W.
The 12-credit related group requirement may be met by appropriate coursework in other foreign languages as well as in English, history, economics, political science, philosophy, and other disciplines. If you are interested in international business, combinations that include marketing or management courses are also possible.