Why Study German Language and Cultures?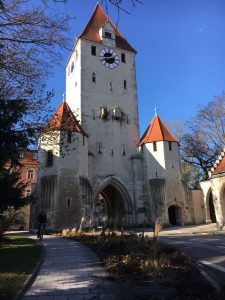 German is your key to Europe. German is spoken not only in Germany, home to about 83 million people, but also in Austria, Switzerland and throughout the European Union as well as in Scandinavia. It is one of eleven national languages in Namibia (Africa), a country 57 times the size of Connecticut (with 20,000 inhabitants of German heritage). Namibia was one of several African countries colonized by the Germans from 1884 to 1914 and is today an independent democracy. Significantly, German is a lingua franca of Eastern Europe, thanks to Germany's longstanding political and economic ties with the countries of the former Eastern bloc.
All German-speaking countries or regions have unique cultures and histories that are part of what the UConn German Section has to offer: a well-designed and rewarding program of excellent quality with a B.A. in German Studies; a double major or dual degree of your choice; or a dual degree in German Studies and Engineering (EuroTech) or in German Studies and Business (EuroBiz).
At UConn
we teach toward intercultural and linguistic competencies, with a focus on language AND culture in each one of our classes
we support an integrated curriculum that prepares you for travel, for speaking, reading, listening, and writing, for study abroad, for graduate school and for potential work in German-language contexts and cultures
we update our classes to emphasize acquisition of intercultural abilities, critical thinking, and the study of history, culture, and everyday life in today's complex environments, elements that are pivotal in a trans-cultural world
we pay attention to the social and cultural functions of language and communication: you speak German differently to your German friend's parent or to the boss of your company than to your friend
In an increasingly interconnected world, you can apply these abilities not just in your future career and not just in German-speaking countries; they will also assist you when exploring other countries, cultures, and languages, including the U.S.
The German Program at the University of Connecticut is nationally known for offering programs with excellent career and/or research preparation, including studying and working abroad:
The EUROTECH Program: Combine your study in Engineering and in German Studies (B.A. + B.S.)
The EUROBIZ Program:  Combine your study at the Business School with German Studies (B.A. + B.S.)
Study Abroad Opportunities: study at 9 outstanding universities (4 of them are "Universities of Excellence") in the state of Baden-Württemberg with UConn's award-winning Baden-Württemberg Program (Freiburg, Heidelberg, Hohenheim, Karlsruhe, Konstanz, Mannheim, Stuttgart, Tübingen, Ulm); or in Berlin.