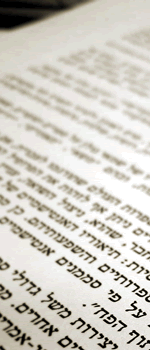 The Hebrew and Judaic Studies section ("HEJS") enables undergraduate and graduate students to study the cultures and civilization of the Jewish people from the unique perspective of experts within a truly international department.
Most Judaic Studies programs in the United States are composed of individual faculty members from diverse departments. On occasion, they are integrated into a standalone department or, perhaps more commonly, are included in Religion or Near Eastern Studies programs.
HEJS is unique inasmuch as it examines the wider experience of the Jews within the many cultures and civilizations with which Jews have interacted over the centuries. Its inclusion in a department composed of specialists in diverse "Literatures, Cultures and Languages" is what makes this possible.
Experts in Classics, German, French, Italian, Spanish, Arabic, and Comparative Literatures work with HEJS students to enable them to see Jewish civilization, from biblical times to the present, through a broader lens. Moreover, many of our courses are either cross-listed with other departments or offered under their aegis (e.g., history, sociology, interdepartmental-INTD), further enhancing the interdisciplinary but focused orientation of our program.
Our courses attract students from almost every department, program, and school of the university. Many HEJS courses meet general education requirements, and honors sections and W courses are available.
HEJS offers both a major and minor in Judaic Studies.
Students who wish to pursue a graduate degree in Judaic Studies, whether the Master of Arts and Doctorate or a Ph.D., do so through the Department of Literatures, Cultures and Languages by combining their interest in a relevant culture and literature (e.g., German, Spanish, Italian, French, Arabic) with a concentration in Hebrew and Judaic Studies.
For example, a graduate student who wishes to study the experience of the Jews, say in a specific European, Middle Eastern, North African, or Latin American setting, does so under the guidance of specialists in those areas at the same time that they pursue a related concentration with faculty in the HEJS section.  The student chooses an advisor in the relevant literatures section and another in Hebrew and Judaic Studies.
Graduate assistantships provide full tuition funding and living stipends.
For more information, contact Avinoam Patt, Section Chair, Hebrew and Judaic Studies and Academic Director of the Center for Judaic Studies and Contemporary Jewish Life at avinoam.patt@uconn.edu