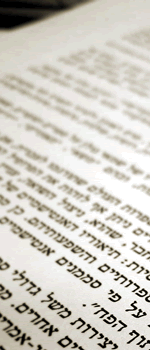 The University of Connecticut is home to the Center for Judaic Studies and Contemporary Jewish Life, the umbrella organization for Judaic Studies throughout the university.  The Center for Judaic Studies sponsors and administers the M.A. in Judaic Studies and provides many resources and support for students, faculty, and the greater community.
The Judaic Studies program itself is anchored in the Hebrew and Judaic Studies ("HEJS") section of the Department of Literatures, Cultures and Languages. The Center for Judaic Studies promotes HEJS courses as well as other, related Judaic Studies courses taught in other departments throughout the campus and sponsors related programs, including visiting speakers and forums.
All students are welcome and encouraged to attend any of the special lectures, seminars, or other events sponsored by the Center – many of which qualify for honors credits.
For more information: http://judaicstudies.uconn.edu