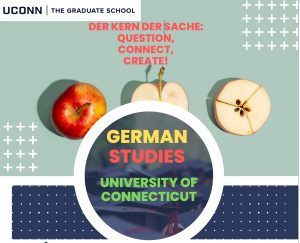 Link to Complete Program Flyer
Wir bieten:
Stipendium für einen Abschluss als Master of Arts in "German Studies" oder "German Literature" (2-4 Semester je nach Vorbildung); oder Ph.D. Abschluss in "German Literature" oder "German Studies" mit Professionalisierung in Lehre und Forschung, inklusive Praktika und Ausrichtungen jenseits des akademischen Stellenmarkts

Auslandserfahrung

Unterrichtserfahrung in DaF, Kursen zu German Studies Themen auf Englisch; oder Assistenz mit General Education Kursen und Forschungsprojekten
Bedingungen:
Kandidat:innen, die in "German Studies" oder "German Literature" an UCONN einen Master of Arts oder Doctor of Philosophy ablegen möchten

Einschreibung in mindestens zwei/drei German Studies Seminare pro Semester im Graduate Bereich

Germanistikstudium oder verwandte Geistes- und Sozialwissenschaften und/oder Deutsch als Fremdsprache im HF oder NF

Anreise Mitte August / Anfang Januar

Bereitschaft, als Teaching Assistant in 1-2 Sprachkursen für Anfänger:innen oder Fortgeschrittene zu lehren oder als Administrative oder Research Assistant (HiWi) zu arbeiten
Bewerbungsvoraussetzungen:
Für MA: B.A. oder Äquivalent 

Für PhD.: M.A. oder Äquivalent

Student:innen im Hauptstudium Germanistik oder Linguistik (im besonderen Fall auch verwandte Geisteswissenschaften) oder DaF

gute englische Sprachkenntnisse 

freundlich, aufgeschlossen, kontaktfreudig

Interesse am DaF Sprachunterricht sowie graduate Studium für M.A. oder Ph.D
Angebot:
Erlass von mehr als $39.000 Gebühren (die Sie nicht bezahlen müssen)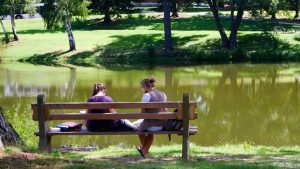 Versicherungszuschläge
Stipendium von mindestens

$27.000 oder mehr (je nach Vorbildung)

pro akademisches Jahr (abzügl. Verwaltungsgebühren).
Bewerbungstermin:
1. Januar für Beginn im August (Herbstsemester) / 15. Juli für Januar (Frühlingssemester)
Kontakte: