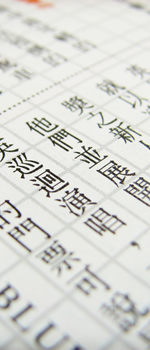 Chinese is the most widely spoken language in the world and is the dominant mode of expression for 1 billion people. Chinese speakers extend from the People's Republic of China to Taiwan, Indonesia, the Philippines, Malaysia, Singapore, Thailand, and beyond.
Through the study of Chinese language and culture, students gain valuable insights into the diverse cultures of the Chinese world and an appreciation of the unique and fascinating heritage of one of the world's greatest and oldest civilizations.
Proficiency in Chinese language and familiarity with Chinese culture complements students' interests in a variety of fields and can lead to exciting careers in International Business and Finance, Art and Archeology, Philosophy, Journalism, Diplomacy and Foreign Relations, and more.
The Department of Literatures, Cultures & Languages offers a four-semester sequence of Chinese language. Language courses are designed to develop students' ability to communicate orally and in writing in Standard Mandarin.
Language Courses:
Chinese 1111: Elementary I
Chinese 1112: Elementary II
Chinese 1113: Intermediate I
Chinese 1114: Intermediate II
Chinese 3210: Chinese Composition and Conversation
Chinese 3220: Business Chinese
Chinese 3240: Contemporary Chinese Film
The Department also offers culture courses taught in English. Through a variety of mediums, including film and literature, these courses introduce students to the history, art, literature, philosophy, religion, and social customs of the traditional and modern Chinese cultural heritage.
Culture Courses:
Chinese 1121: Traditional Chinese Culture
Chinese 1122: Modern Chinese Culture
Chinese 3282: Women in Chinese Literature and Film
Additional Courses:
Chinese 3298: Special Topic. Credits and hours by arrangement. With a change of content, may be repeated for credits.
Chinese 3299: Independent Study. Open only with consent of Instructor. With a change of content, may be repeated for credits.
Students interested in pursuing the study of Chinese language and culture should send an e-mail to:
Liansu Meng: Liansu.Meng@uconn.edu
George Yang: Chunsheng.Yang@uconn.edu