LCL's faculty and graduate students turned out in force at the state's capitol in Hartford Friday afternoon to support the core mission at UConn: providing an affordable degree to Connecticut students and to act as an engine of innovation for Connecticut now and in the future. Despite years of austerity since 2010, a period during the state has reduced its appropriation to UConn by $142 million, the university's ranking and competiveness have consistently improved despite layoffs, pay freezes, and other cuts. Ironically, just four days prior to the budget vote, UConn received its highest-ever ranking from U.S. News & World Report, which rates the University as the 18th best public school in the country alongside the University of Texas and Purdue.
The budget approved last week by the General Assembly would reduce the state appropriation to the University of Connecticut by just shy of 30 percent from where it currently stands, meaning campuses would close, financial aid would be slashed, and thousands of jobs in the private economy would be lost.
Although the full effect of such an unprecedented cut is difficult to know, President Susan Herbst said in a message to the University community they would include the possibility of closing UConn Health (which treats 1 million patients each year) and some regional campuses; ending some Division I sports; closing some academic departments and potentially some schools and colleges; enacting major reductions to all financial aid; and ending international programs, among others. Herbst supported an earlier proposed budget that would have cut the University's funding by $108 million over the next two years. Under the budget approved by the legislature, UConn would see its state appropriation cut by $309 million in just two years.
The adopted budget would bring the advancement that UConn has made to a halt, but its impact would not be limited to the University. According to a 2015 analysis by the Tripp Umbach research firm, UConn accounts for more than $3.4 billion worth of economic activity in Connecticut every year, and sustains one in every 90 jobs in the state, more than half of them in the private sector.
What's more, UConn has a proven track record in keeping talented young college graduates in Connecticut, something the state has struggled to do in recent years. While more than 39,000 people between the ages of 20 and 34 left Connecticut in 2014 alone, 78 percent of recent UConn grads from Connecticut remain here.
Graduating in four years would become a significant challenge as class sizes balloon and waitlists lengthen; top Connecticut students, like the record number of valedictorians and salutatorians that were part of this year's freshman class, would go to other states for college; and businesses ranging from Fortune 500 companies to local restaurants, which rely on UConn, would be damaged.
"It is difficult to describe how destructive the approved budget would be to UConn and higher education in Connecticut," Herbst wrote.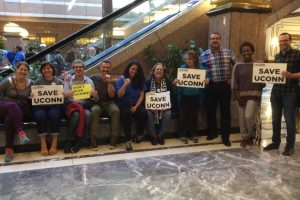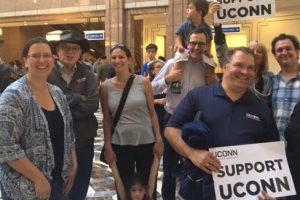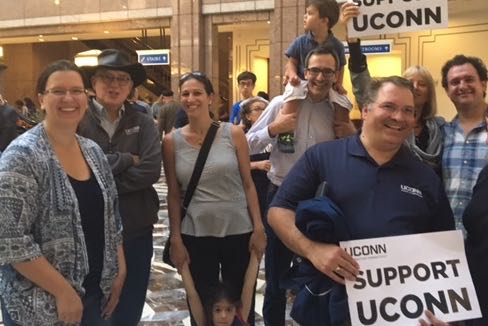 Sourced from material that originally appeared in UConn Today on September 20 and 21.
---