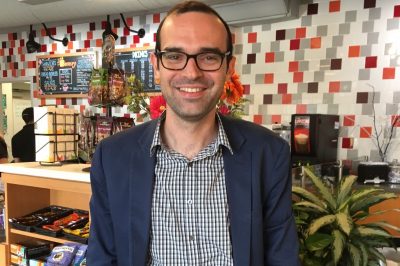 Christopher Bonner joined the faculty of LCL this past fall to teach courses in French and Comparative Literature. He specializes in postcolonial studies and French Caribbean literature, and he seeks in his research to think through the relationship between literature and politics.
He completed his dissertation, The Alignment of Writing: Geopolitics and Literary Form in Cold War French Caribbean Literature, at NYU in 2015. In it, Bonner argues that the Surrealist-inspired avant-garde poetry that had been the touchstone of colonized black writers in the 1940s gave way, in the mid-1950s, to topical, referential prose as the prime vehicle for emancipatory politics in the French Caribbean. This formal shift, he shows, reflected a radically changed understanding of what it meant to write engaged literature, as authors adapted to a new, bipolar world order. Professor Bonner's next book project builds on his first, but focused on modes of contemporary political engagement and resistance. In his new project, he will address the ways in which the critical strategies underlying the notion of "cultural politics" are themselves being challenged by living writers and theorists in the Caribbean. He has published his scholarship in the journal Small Axe, and has an article forthcoming in the upcoming issue of the International Journal of Francophone Studies.
Bonner grew up in Philadelphia, but has lived in New York City for most of his adult life.  He completed his undergraduate degree at Columbia University in 2005. He has had a particularly rich experience with respect to teaching. He admits that a high school teacher, Ms. Mulherin, was largely responsible for inspiring the love of French and Francophone culture that lead him to the path of a career in Francophone literatures. After completing his B.A, at Columbia, he decided to become a New York City Teaching Fellow, during which he taught middle-school English in the South Bronx.  Nearly all of his students were disadvantaged, struggling with a combination of poverty, undiagnosed learning disabilities, and unstable home situations. He was forced to learn to take charge of classroom discipline quickly, but more importantly, he says that his "eighth graders taught me the value of empathy. I began to see the classroom as a site for exchange and mutual learning, both among students and between students and myself." Building a culture of empathy and solidarity have since become principles of his teaching, which Professor Bonner feels are especially important in foreign language classrooms. When voicing ideas in a second language, "students have to feel comfortable enough to risk making mistakes."
While here at UConn, Professor Bonner will be offering an impressive range of courses, including classes on Global Cinema and World Literatures for the Comparative Literature and Cultural Studies program plus courses in literary theory, literature, and conversation classes.
---