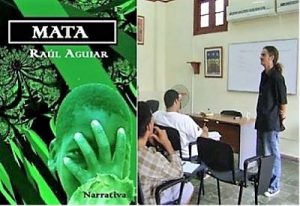 On Monday, October 24th Cuban poet Raul Aguiar visited UConn's Latin American Cultural Center to give a talk and workshop on the manipulation of the Spanish language within fictional writing.
Aguiar's narrative writing seminars usually take place at the state-owned Onelio Jorge Cardoso Literary Center named after the famous Cuban storyteller and located in Habana. Classes are free of charge and provide Cuban students with the opportunity to learn about narrative techniques and the great classics of the history of Hispanic literature while practicing their storytelling skills in an interactive and amusing way. Even though the center is not lucrative, the author thinks its near-future existence is not threatened. The center often hosts prestigious writers such as José Saramago and features annual, short-fiction competitions in which the winners receive funding for their writing projects and have the possibility of publishing them afterwards. Over 1000 students have graduated from the center, among them LCL graduate student, Milena Almira.
We were excited by the diverse audience and relaxed environment of the event. Aguiar explained, in Spanish, "English is magnificient to speak of business, German to talk about war, French and Italian to talk about romance, and Spanish to speak with the gods." Aguiar then engaged undergraduate students, graduate students, and faculty in a conversation on the flexibility that exists within the syntactical structures of the Spanish language. Aguiar argued that Spanish offers an almost infinite liberty to exchange phrases and verbs, changing where the weight of the phrase lays, in order to convey different meaning or evoke various feelings in the reader.
During his workshop the novelist reflected on Cuban literary trends within the last decades. According to Aguiar, his generation avoided conflicts. This prepared the ground for topics that had never been examined before, such as youth diversity. He also spoke about how the current generation of Cuban writers likes experimenting with different literary genres and writing shorter stories due to the influence of blogs and social media platforms such as Twitter. Aguiar's most recent work, by contrast, has been inspired by his love for hard rock music. While listening to it in English, he wrote La estrella boca arriba, a book about rock bands and the symbols surrounding them. A new edition of his novel has just been published in Spanish.
Aguiar also offered valuable advice to us as writers. All of us, whether student or faculty, have experienced writer's block. Aguiar explained that when this happens the best thing to do is to revert back to the most simple sentences to express our thoughts. Upon getting the idea on paper, we can then start to re-order phrases and words to better evoke feeling and voice behind the language.
If you would like to support the center or learn more about Aguiar and his work, please contact Professor Jacqueline Loss at jacqueline.loss@uconn.edu.
---