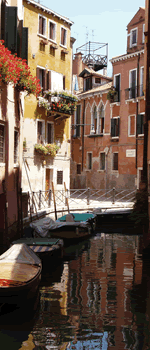 Ideally located in a rural setting near the coast of New England within a short distance from Boston and New York, students have ready access to a number of libraries and film archives beyond those of the University of Connecticut, including those of Harvard, Yale, and the New York Public Library, among others. The Homer Babbidge Library contains an outstanding collection of Italian books and periodicals (follow this library link). The Risorgimento pamphlet collection is one of the finest available outside Italy.
Library Liaison: Michael Young
Tel. (860) 486-4953
michael.s.young@uconn.edu
The Italian Program is housed in a Department of Modern & Classical Languages that offers advanced degrees in Spanish, Portuguese, French, German, and Classic and Ancient Mediterranean Studies. The Program works closely with the Department of History, which is the only one in the country with an endowed chair in Modern Italian History (The Emiliana Pasca Noether Chair), and the Departments of Art History, English, and Music, and with area studies programs at the University, such as European Studies, Medieval Studies, and Comparative Literary and Cultural Studies.