Hassanaly Ladha
Assistant Professor
French and Francophone Studies
---
Education
Princeton University, Ph.D. Comparative Literature
Yale University, B.A. English
Areas of Expertise
Philosophy and literature; aesthetics; literary theory
Postcolonial studies
Poetry (19th and 20th century French, francophone African, American, British)
Islamic studies (pre-Islamic poetry; Quranic studies; art and aesthetics; Islamic legal and political theory; African Islam)
Narrative Biography
Born and raised in the Congo, Hassanaly Ladha holds a bachelor's degree in English from Yale University and a Ph.D. in Comparative Literature from Princeton University. He has taught at Harvard University and currently teaches literature and philosophy at the University of Connecticut. Ladha's philosophical work, centering on the relation of aesthetics and knowledge, identifies dynamic, contingent, and performative modes of subjectivity across various traditions, with potentially radical implications for contemporary political and legal theory. He anchors his research at the intersections of Arabo-Islamic thought, French and German literature and philosophy, and their respective legacies in francophone cultural expressions.
Professor Ladha's book, The Architecture of Freedom: Hegel, Subjectivity, and the Postcolonial State, analyzes Hegel's idea of "Africa" in relation to his conceptions of language, the aesthetic, and the political subject and traces their inflections in contemporary francophone African thought. Professor Ladha has also written on pre-Islamic poetry, medieval Arabic poetry and the advent of the Sicilian sonnet, Hegel's theory of history, and Mallarmé's Divagations. Professor Ladha's current book project, Solomon and the Caliphate of Man, examines the epistemic foundations of Arabo-Islamic thought from early Arabic poetry and the Qur'an to Arabic linguistics and contemporary legal and political theory.
His other works include The Mamertine Group, a series of virtual public interventions that implicate architecture in the political imaginary, relating monumental form to questions of sovereignty, citizenship, culture, and history. His "Prison-Wall" project has been featured in over one hundred publications internationally including UConn Today, The Guardian, CNBC, Wired, Telemundo, The New York Times, and CNN. He has lectured at the École Normale Supérieure, the American University of Cairo, Université de Reims Champagne-Ardenne, Harvard University, Universitat Autònoma de Barcelona, and the University of Connecticut.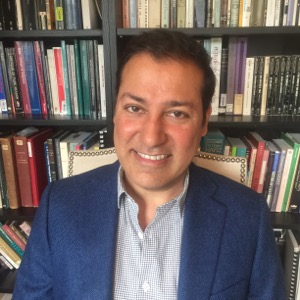 | | |
| --- | --- |
| Email | ally.ladha@uconn.edu |
| Phone | +1 860 486 9245 |
| Office Location | Oak 241 |
| Office Hours | Thursday 2-3:30 and by appointment |