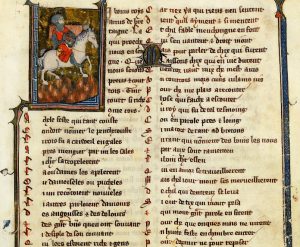 The French Program works closely with UConn Medieval Studies Program and belongs to the New England Medieval Consortium.
http://medievalstudies.uconn.edu/
Due to the increasing interest in Medieval Studies, several students have recently completed PhDs in French Medieval Literature:
Florence Marsal received in 2004 her PhD on Roubaud and the great 13th Century Prose Romances.
Laurence Cousteix is currently writing her dissertation on Merlin et les femmes au regard de la question de l'écriture dans la littérature arthurienneco-directed by Prof. Anne Berthelot and Prof. Denis Hüe (Université de Rennes 2, France).
Nathalie Ettzevoglou  is in France researching her dissertation topic, Medicine and Magic in literary and scientific texts of the late French Middle Ages, in a perspective that allies Literary and Cultural Studies.
Mark Foster is is working on a translation of the Occitan chanson de geste, Ronsasvals while writing his dissertation on this little–known text.
Kathleen McCarty will soon defend her dissertation on The Trobaïritz's Feminine Rhetorics.
The French Program is also host and parent to the Société Internationale des Amis de Merlin (SIAM), created in 2001 by Prof. Anne Berthelot. Prof. Berthelot is the editor of L'Esplumeoir, the annual journal of the SIAM. See the link to the SIAM Website: