Art lover? French lover? Become a French-English Docent at the Benton Museum of Art and Receive Credits for French
Bilingual Art Docent Training Program

begins September 22, 2017
Training
In English
Museum Education Coordinator Tracy Lawlor trains students in the history of art as it pertains to a current exhibition, the elements of art, museum education, and the study of the William Benton Museum of Art's collection. Meet with Tracy Lawlor on Fridays at 2:00-4:00pm beginning September 22, 2017. This training program lasts either a semester or a year.
In French
Students create a portfolio of projects and activities in French that they will use in leading interactive tours for varied French audiences (e.g., elementary or advanced UConn French students, local high school classes, and French Club members). French Professor Valérie Saugera supervises the development of the portfolio with linguistic and pedagogical feedback and assists with practice tours.
Application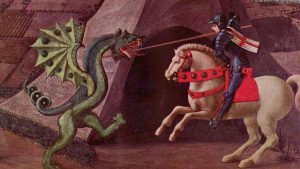 Touring
Docents serve as tour guides to elementary or advanced UConn French students, French high schoolers in Connecticut, and occasional French-speaking visitors.
Art Lectures
Docents may present talks to culture classes in collaboration with a French professor, to the French Club, or to other specific events.
Benefits
A very unique artistic and linguistic learning experience.

A distinguished feature on your résumé.
1-3 credit independent study/internship (according to your project type) OR can replace a final project/exam of a French culture course.
How do I become a docent?
For further information and application, please contact Professor Valérie Saugera (valerie.saugera@uconn.edu) and Education Coordinator Tracy Lawlor (tracy.lawlor@uconn.edu).